Heavy Construction Equipment
Heavy Construction Equipment
Trenchers
Trenchers or Trenching machines are used to excavate trenches in soil. These trenches are generally used for pipeline laying, cable laying, drainage purposes etc. Trenching machines are available in two types namely chain trenchers and wheeled trenchers. Chain trenchers contains a fixed long arm around which digging chain is provided. Wheeled trenchers contains a metal wheel with digging tooth around it. To excavate hard soil layers, wheeled trenchers are more suitable. Both types of trenchers are available in tracked as well as wheeled vehicle forms.
Loaders
Loaders are used in construction site to load the material onto dumpers, trucks etc. The materials may be excavated soil, demolition waste, raw materials, etc. A loader contain large sized bucket at its front with shorter moving arm. Loader may be either tracked or wheeled. Wheeled loaders are widely used in sites while tracked or crawled loaders are used in sites where wheeled vehicles cannot reach.
Tower Cranes
Tower cranes are fixed cranes which are used for hoisting purposes in construction of tall structures. Heavy materials like pre-stressed concrete blocks, steel trusses, frames etc. can be easily lifted to required height using this type of equipment. They consist of mast which is the vertical supporting tower.
Paver
Paver or Asphalt paver is pavement laying equipment which is used in road construction. Paver contains a feeding bucket in which asphalt is continuously loaded by the dump truck and paver distributes the asphalt evenly on the road surface with slight compaction. However, a roller is required after laying asphalt layer for perfect compaction.
Road Roller Paving Equipment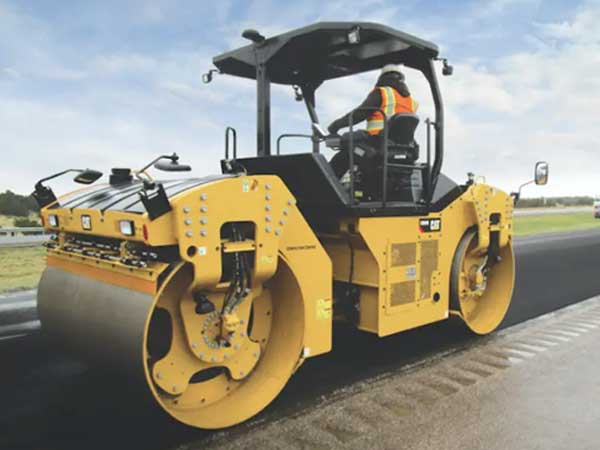 Telehandlers
Telehandlers are hoisting equipment used in construction to lift heavy materials up to required height or to provide construction platform for workers at greater heights etc. It contains a long telescopic boom which can be raised or lowered or forwarded. Different types of arrangements like forklifts, buckets, cabin, lifting jibs etc. can be attached to the end of telescopic boom based on the requirement of job.
Feller Bunchers
Feller buncher is tree cutting heavy equipment used to remove large trees in the construction field. They cut the tree and grab it without felling, likewise gathers all the cut down trees at one place which makes job easier for loaders and dump trucks.
Dump Trucks
Dump trucks are used in construction sites to carry the material in larger quantities from one site to another site or to the dump yard. Generally, in big construction site, off-road dump trucks are used. These off-road dump trucks contains large wheels with huge space for materials which enables them to carry huge quantity of material in any type of ground conditions.
 Pile Boring Equipment
Pile boring equipment is used to make bore holes in the construction site to install precast piles.
Pile Driving Equipment
This equipment lifts the pile and holds it in proper position and drives into the ground up to required depth. Different types of pile driving equipment are available namely, piling rigs, piling hammer, hammer guides etc. in any case the pile is driven into the ground by hammering the pile top which is done hydraulically or by dropping.